Overview
Take your EV insights to the next level by focusing on specific subpopulations
"One of the biggest challenges for the EV field at this stage is addressing heterogeneity of secreted EVs, and heterogeneity within EV populations."1
Gain powerful insights into extracellular vesicle (EV) biology and analyze EV subpopulations for therapeutics development, biomarker discovery, and more with SBI's Exo-Flow™ 2.0 CD81 Analysis Kit for Serum or Plasma. With Exo-Flow 2.0 technology, we've re-engineered our original Exo-Flow beads (Figure 1) to deliver virtually undetectable background binding. The result is highly specific capture of EVs expressing CD81 on their surface so you can easily analyze specific EV subpopulations by flow cytometry, western blot, or the downstream technology of your choice. Take your EV insights to the next level with Exo-Flow 2.0.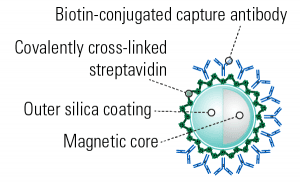 Figure 1. Exo-Flow 2.0 beads have an outer silica coating which delivers undetectable background binding.
"The new Exo-Flow 2.0 beads are much easier to see during the processing steps (sample capturing, washing, staining, etc.) which prevents accidental loss of the sample.  I am also able to acquire more events with the flow cytometer with the new Exo-Flow 2.0 beads."
—Ananthu Pucha, DeKalb Veterans Affairs Hospital at Emory University
Powerful—analyze EV subpopulations for deeper insights into EV biology and biomarker discovery
Efficient—our Exo-Flow 2.0 beads can capture even small subpopulations of EVs to maximize your discoveries
Low-background—Exo-Flow 2.0 beads deliver undetectable background binding for targeted analysis of specific EV subpopulations
Easy-to-use—the magnetic bead-based workflow translates into quick and easy EV capture
Each Exo-Flow 2.0 CD81 Analysis Kit for Serum or Plasma comes with enough reagents for 10 reactions of 150 – 300 µg protein equivalent of EVs (the actual amount of input protein equivalent depends on your EV isolation method).
Our Exo-Flow 2.0 technology is available as both individual tetraspanin (CD63, CD9, and CD81) and combination kits, as well as a basic kit that can be used with the biotinylated antibody of your choice. Note that unlike the original Exo-Flow technology, Exo-Flow 2.0 kits are specific for isolating EVs from either serum/plasma or tissue culture medium, so be sure to choose the right kit for your needs.
See all available Exo-Flow 2.0 kits in the table below.
References
Willms E, et al. Extracellular Vesicle Heterogeneity: Subpopulations, Isolation Techniques, and Diverse Functions in Cancer Progression. Front Immunol. 2018; 9: 738. PMCID: PMC5936763.