Catalog Number
Description
Size
Price
Quantity
Add to Cart
LV350A-1
LentiSuite Deluxe Kit (includes HEK293TN Producer Cells, pPACKH1, PureFection, PEG-it, TransDux MAX, and the Global UltraRapid Titering Kit)
10 Preps
Overview
Streamline large scale lentivirus production with our comprehensive LentiSuite Deluxe Kit
For production and other labs that produce lentivirus particles at large scales and need to obtain quantitative titer information, SBI has bundled everything you need into the LentiSuite Deluxe Kit. Get everything you need to generate high-titer lentivirus particles for any application where stable gene delivery and expression is desired.

Compatible with all of SBI's lentivectors and constructs, as well as all other third-generation lentivectors, the LentiSuite Deluxe Kit includes optimized reagents to support large-scale virus production, including HEK293T/TN/FT producer cells and the Global UltraRapid™ Titering Kit. This kit provides enough critical reagents to support 10 virus preps from 10 cm plates, or 5 virus preps from 15 cm plates:
With the LentiSuite Deluxe Kit, you get more than the kit—you get confidence backed by:
SBI's well-proven, widely-published lentivirus technology
Optimized reagents that we keep on improving
Deep technical expertise from the scientists that develop our lentivirus production products and perform our lentivirus production services
*One transduction reaction is defined as 500 µL of total volume in a single well of a 24-well plate.
How It Works
Everything you need for large-scale lentivirus production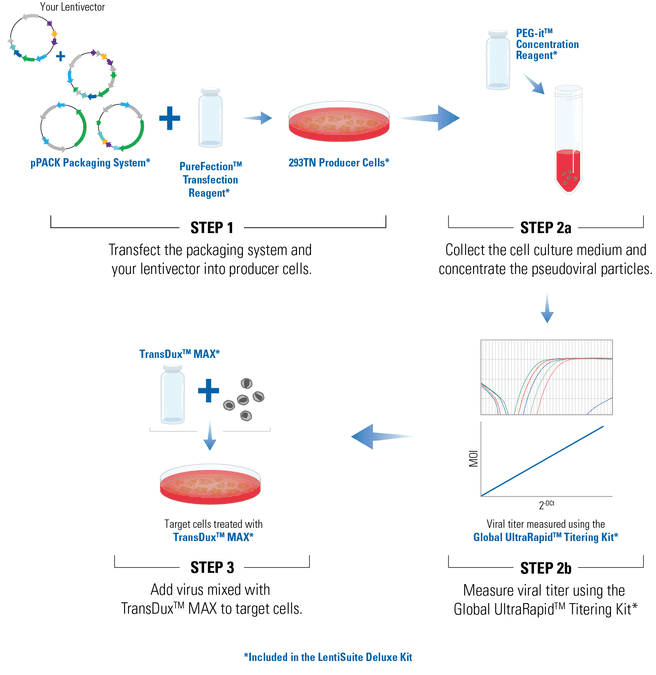 Kit Contents
Reliable—generate high titers of transduction-ready pseudoviral particles
Powerful—efficiently deliver and stably express your lentivector constructs in a wide range of mammalian cells
Well-designed—quantify pseudoviral titers and transduction efficiency using a convenient copGFP control
Flexible—choose from FIV and HIV-based lentivector packaging kits
PureFection Transfection Reagent
Flexible—highly effective transfection technology supports a range of applications

Compatible with most cell types
Works with both plasmid DNA and siRNAs

Cost-effective—excellent alternative to expensive, lipid-based products
Safe—nano-based gene delivery with low toxicity
Fast—quick fifteen-minute protocol makes PureFection ideal for high-throughput transfections
Easy-to-use—simplifies lentiviral production by removing the need for ultracentrifugation
Cost-effective—contributes to more efficient transductions
Powerful—concentrate lentiviral particles 10- to 100-fold
Scalable—enables isolation of virus from large volumes of media
Safe—supports a range of applications

Found to be non-toxic to all target cell lines tested, including ES cells
Prevent toxic and immunogenic reactions by avoiding accumulation of cellular debris
TransDux™ MAX Transduction Reagent
Efficient—up to 8-fold greater transduction efficiency than polybrene, and 4-fold greater efficiency than standard TransDux reagent as measured by qPCR*
Easy-to-use—kit format requires minimal hands-on time (<5 minutes)
Non-toxic—no need to change out media after infection
Versatile—works with all types of packaged lentivirus
Flexible—enhances transduction efficiency in a wide variety of cell lines
Broadly compatible—does not interfere with downstream gene expression or functional assays
Global UltraRapid Titering Kit
Rapid—get data more quickly than what's possible with conventional p24 ELISA titer kits (< 3 hours from cells-to-titer!)
Accurate—relies on highly quantitative qPCR measurement of lentiviral titers
Easy—isolation and/or concentration of genomic DNA is NOT required
Quantitative—built-in reference control simplifies normalization.
Dynamic—obtain titering quantitation up to 15 MOI
Compatible—works with most WPRE-containing lenti-constructs (g. pLVCT-H1, pLVTHM, pGIPz, HiPerform™ and all SBI lentivectors)
*Based on infection of HT1080 cells with the pre-packaged virus format of SBI's BLIV 2.0 reporter MSCV-Luciferase-EF1a-copGFP-T2A-Puro (Cat# BLIV713VA-1) and the appropriate conditions for polybrene, TransDux, and TransDux MAX. Virus transduction & integration efficiency was measured using SBI's UltraRapid Titering Kit (Cat #LV961A-1).
Have Questions?
A System Biosciences technical expert is happy to help!
Sign up to receive technical advice and exclusive deals directly to your inbox.