pGreenFire 2.0 mCMV Cloning & Negative Control Lentivector & Virus
Catalog Number
Description
Size
Price
Quantity
Add to Cart
TR411PA-P
pGreenFire 2.0-mCMV negative control plasmid (pGF2-mCMV-rFluc-T2A-GFP-mPGK-Puro)
10 µg
TR411VA-P
pGreenFire 2.0-mCMV negative control virus (pGF2-mCMV-rFluc-T2A-GFP-mPGK-Puro)
>2 x10^6 IFUs
Overview
Make your own pGreenFire 2.0 reporter vector or use as a negative control
With the pGreenFire 2.0 mCMV Cloning & Negative Control Lentivector & Virus (pGF2-mCMV-rFluc-T2A-GFP-mPGK-Puro), you can take advantage of our robust pGreenFire 2.0 lentivector technology to create your own transcriptional response element (TRE) reporter or use pGreenFire 2.0 mCMV as-is as a negative control.
With the pGreenFire 2.0 mCMV Cloning & Negative Control Lentivector, XhoI and NheI sites are placed upstream of a minimal CMV promoter (mCMV) so you can clone in your own TREs. Upon activation, the TREs and mCMV promoter together drive co-expression of red firefly luciferase and GFP so you can quantitatively measure transcriptional activity using both fluorescence and luciferase activity.
Alternatively, you can use the vector as-is as a negative control for any project using pGreenFire 2.0 lentivectors (see data below).
What makes our next-gen pGreenFire 2.0 vectors even better than other TRE reporter vectors is the smart design, which adds in a constitutive selection cassette for stable cell line generation while minimizing interference with the upstream TRE. By using a weak/moderate mPGK promoter to drive the antibiotic selection marker (puromycin resistance) and carefully arranging the conditional reporter genes, the selection marker is reliably expressed without compromising conditional expression of rFLuc and GFP.
As with all of our pGreenFire 2.0 lentivectors, the GreenFire cassette now consists of red firefly luciferase (rFLuc), a T2A co-expression element, and GFP. The switch to rFLuc opens up the possibility of performing a dual-spectral luciferase assay and also delivers greater sensitivity for in vivo applications than conventional luciferase.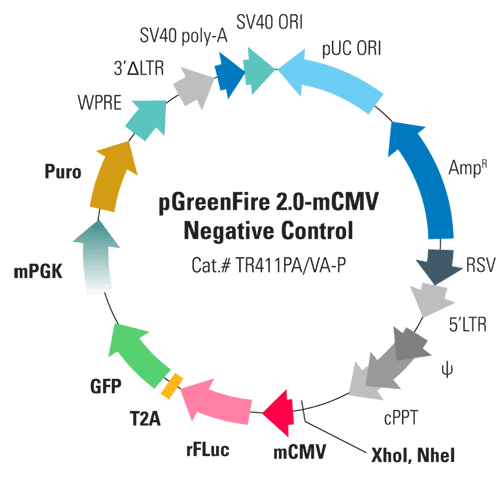 Have Questions?
A System Biosciences technical expert is happy to help!
Sign up to receive technical advice and exclusive deals directly to your inbox.